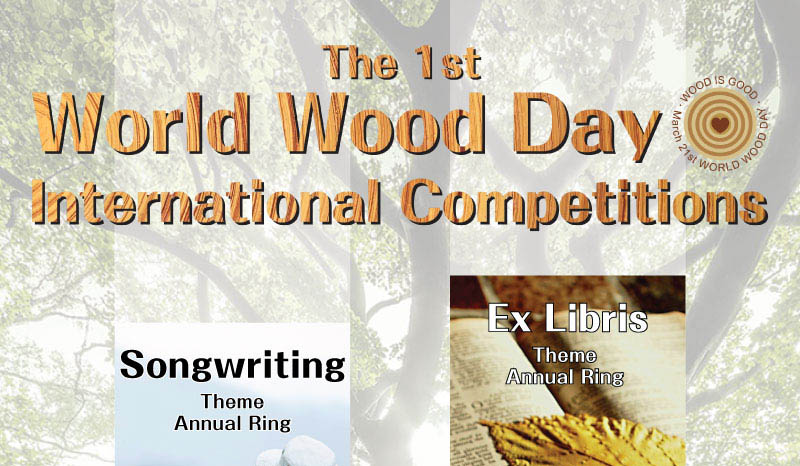 Winners Announcement of the 1st World Wood Day (WWD) International Songwriting and Ex Libris Competitions
Competition
The organisers, International Wood Culture Society (IWCS) and Japan Wood Culture Society (JWCS), are pleased to announce the results of the 1st World Wood Day International Songwriting and Ex Libris Competitions on 8 October (Wood Day in Japan). Please also check the official competition website (https://wwd-contest.com/english/) for more updates on the release of the awarded works.
Songwriting
Grand Prize
Non
Runner-up
Hirokazu Saito
"Tree Hymn"
Writer: Hirokazu Saito
Katsumi Shougaki
"The Tree of Time - Annual Ring"
Writers: Yumiko Takashima (Music) and Katsumi Shougaki (Lyrics)
Saki Morita
"Annual Rings"
Writer: Saki Morita
Message from the Jury
The first World Wood Day (WWD) songwriting competition received 11 entries in total. During the review process, the jury committee was surprised and touched to find a number of works with brilliant musicality. Three works received the highest scores during the first review meeting and the committee decided to have a second meeting to further review the three works. During the final meeting, the committee decided to award to the three works of different types and personalities that were equally impressive. Although the Grand Prize was not chosen, the committee promise that it will still be a pleasure for everyone to listen to the three awarded songs that greatly reflect the theme "Annual Ring." The awarded works will be released online soon. We sincerely hope that through these songs the importance of wood and the splendor of wood culture will take root in the hearts of more people around the world.
Ex-Libris
Grand Prize
Nanami Sasaki
"Snooze of A Cat"
Honorable Mention
Takashi Matsuda
"Mimesis"
Kiyoshi Kawamura
"Exlibris of Forest"
Mitsumi Takada
"An accompaniment to Reading"
Message from the Jury
Ex-Libris (Bookplate) is a small piece of printed paper, also known as paper jewelry, that is a fun folio that decorates the endpage of an important book. We received 5 entries, which is not as many as we hoped, probably because ex-libris is not widely known.
The jury committee would like to acknowledge the entrants' hard work, whose own styles and sensibilities reflected the theme "Annual Ring." Among them, an adorable entry stood out that obviously applied the concept of ex-libris and the technique of woodblock printing. Therefore, the committee awarded this entry the Grand Prize. Three entries were named honorable mentions to commemorate the first Ex-Libris competition and will be awarded the same prize as the Grand Prize.
We sincerely hope this competition will help promote ex-libris more widely and future competitions will have more diverse entries from all around the world.